Myró Antiques House has a huge collection of contemporary and classical Greek works of art, an exhibition of Antique furniture and objects, and holds a bimonthly physical auction in its location, attracting world attention, since 2008.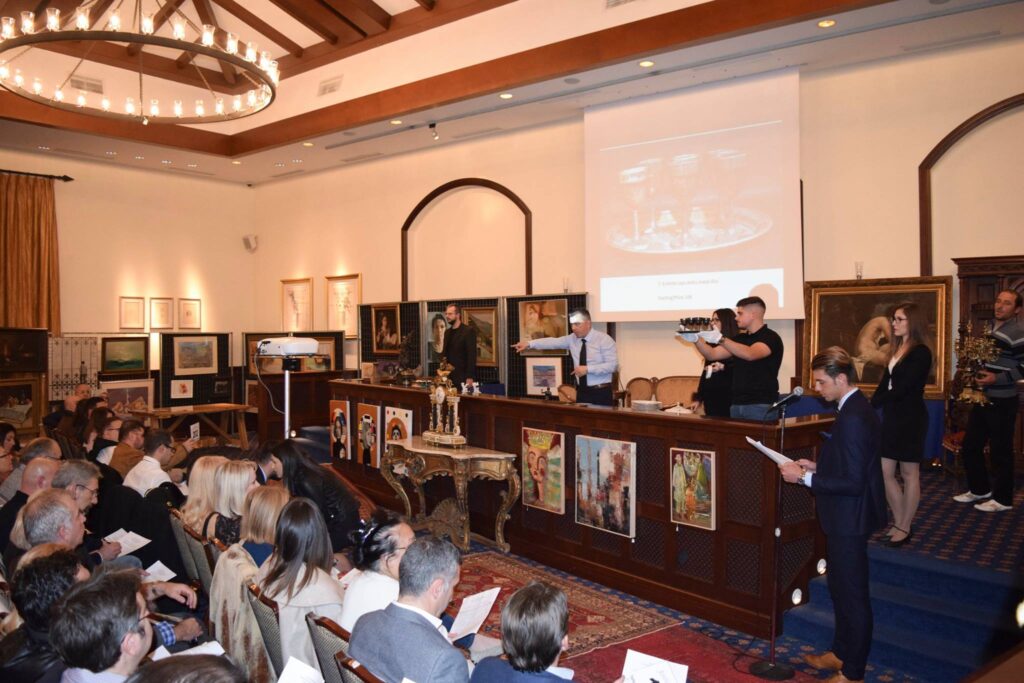 Welcome to Myró Antiques House's 12th general online auction of art and antiques! The auction of the lots will start on Monday, 20 February 2023 at 18:00 EET and will be live for two weeks, ending on Monday, 6 March 2023 at 18:00 EET.
Η Myró Gallery φιλοξενεί την ατομική έκθεση της Αλεξάνδρα Καδινοπούλου (Alex Kadi) στο Main Hall. Τα εγκαίνια θα πραγματοποιηθούν την Πέμπτη 16 Μαρτίου 2023 στις 19:00. Η έκθεση θα διαρκέσει μέχρι την Παρασκευή 24 Μαρτίου 2022.
Η Myró Gallery φιλοξενεί την ατομική έκθεση του Πάνου Ζήζου, «Κυκλική σταθερότητα». Τα εγκαίνια θα πραγματοποιηθούν την Πέμπτη 16 Μαρτίου 2023 στις 19:00. Η έκθεση θα διαρκέσει μέχρι την Παρασκευή 24 Μαρτίου 2022. Ο Panos Zizos /ZIZ γεννήθηκε και μεγάλωσε στην πόλη της Καστοριάς όπου πριν ακόμη από το 2000 άρχισε την ενασχόληση του με την τέχνη του graffiti. Οι σπουδές του ξεκινήσαν στο ΤΕΙ Ιωάννινων όπου και αποφοίτησε το 2009. Το 2021 σπούδασε ¨Αrt Therapy¨ του Πανεπιστήμιο Αιγαίου, ενώ το προηγούμενο διάστημα ολοκλήρωσε και το μεταπτυχιακό του στην Ειδική Αγωγή του Πανεπιστήμιου Λευκωσίας. Η Αλίκη Σιτζόγλου γεννήθηκε το 1997 στην Θεσσαλονίκη. Είναι απόφοιτος του Τμήματος Εικαστικών και Εφαρμοσμένων Τεχνών της Καλών Τεχνών του ΑΠΘ. Έχει συμμετάσχει σε πολυάριθμες ομαδικές εκθέσεις στην Ελλάδα και στο εξωτερικό.
Η Myró Gallery φιλοξενεί την ατομική έκθεση της Μαρίας Καρίνα στο Show Room. Τα εγκαίνια θα πραγματοποιηθούν την Πέμπτη 16 Μαρτίου 2023 στις 19:00. Η έκθεση θα διαρκέσει μέχρι την Παρασκευή 24 Μαρτίου 2022.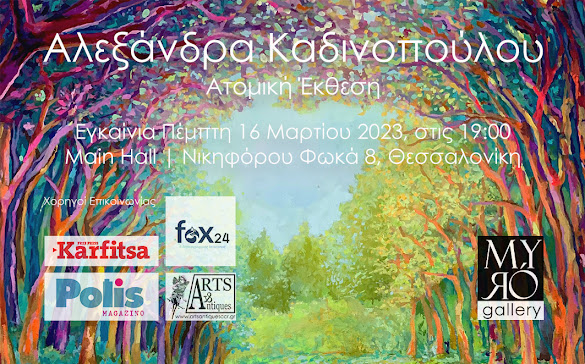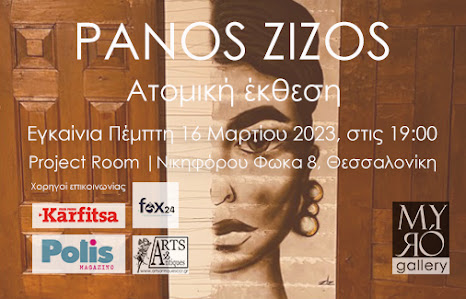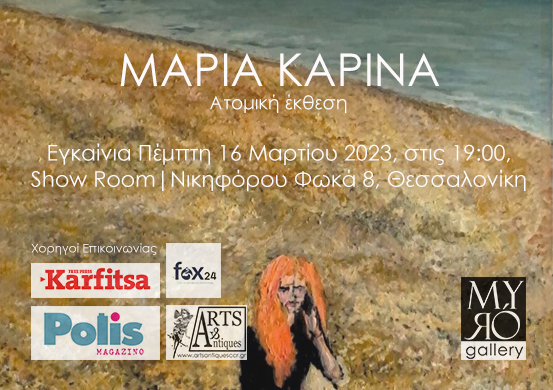 Δραστηριότητες Myró Antiques House & Group
Τρία διεθνή συμπόσια γλυπτικής με πολλές παράλληλες δράσεις, πρωτότυπα γλυπτά σε ελληνικό μάρμαρο από Έλληνες και ξένους παγκοσμίου φήμης γλύπτες, εκθέσεις, και πολλές ανεξάρτητες δράσεις από τον Αύγουστο μέχρι σήμερα μετρά η αποτίμηση του εικαστικού μέρους του του προγράμματος «Καλαμαριά 1922-2022».
Myró Antiques House premises accommodate the Greek Marble Initiative International symposia, and other outdoor events yearly. In addition a considerable volume of sculptures are given birth during every year by the associated sculptors to the Initiative.
Myró Gallery of Contemporary Art, which is physically situated in the city center of Thessaloniki. The gallery was established in 2011 by Stavros Myronidis
Myró Real Estate is the first Greek company specialized in managing and selling Greek islands, available for sale. Several Greek islands are currently available, while our company creates a "safety net" and solves every matter/ procedure affects drastically both parties – the seller and the investor, lifting any bureaucratic or other barrier with a team of extensive law & property expertise.